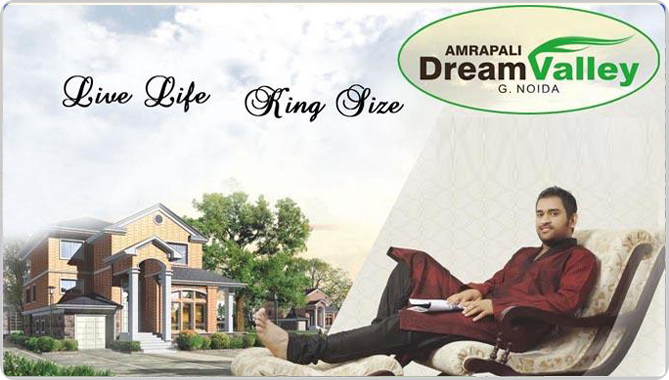 Amrapali Dream Valley
The pet project of Amrapali Builders by the name of Dream Valley is beset with serenity and sophistication; it is a township which provides the buyers with a wide variety of amazing abodes. It has been innovatively designed having eco friendly and esthetic features. All of the villas complement your all family needs. Each and every dwelling is surrounded by carpeted pathways and swinging greens. It has plush looking exteriors and inviting interiors which account for Dream Valley's spaciousness and clutter-free openness. The Amrapali group of builders has take pains to provide the residents with all sorts of amenities ranging from commercial complexes to schools, hospitals, business centre etc. All of these dwelling units are situated in an ideal location inn beckoning the urban dwellers with the aspirations and dreams. The township of Dream Valley offers magnificent and independent Flats over an area of 50 Miles of prime location which has been allotted by GNIDA. The project of Dream Valley is an amalgamation high-class, comfort and way of life. It has the Vaastu certified apartments.

There is no doubt that Amrapali is a very reputed name when it comes to quality housing projects. They have been in this line of business for the past many decades and have set the best of examples when it comes to quality dwelling units. Whether it is quality of construction of location, there is hardly any doubt that this is name to reckon with under all circumstances. In keeping with their rich tradition, they are now coming up with the Amrapali Dream Valley. This project is coming up in 50 acres and the land for this project has been allotted by GNIDA and therefore the titles are clean and unquestioned. There is also little doubt that this project will offer the best when it comes to lifestyle, comfort and luxury is concerned. It is a project that has been constructed with the best of green objectives in mind.

The project is complete with some of the best common amenities and facilities. These include quality swimming pool, gymnasium, common park for elders and young children and much more. It also has Jacuzzi and sauna facilities and quality theme parks for kids. One can also enjoy the luxury of golf course apart from unique walking and jogging tracks. Further the project has 24 hour security and power backup and the best of water supply at all points of time.

It also would be pertinent to mention that the project is well located and all the civic amenities and facilities are within very short distances by vehicle. Whether it is schools, colleges, hospitals, or other such things one can be sure that they are within striking distances so to say. The project is also well known for adhering to the best of construction standards. All the towers are earthquake resistant and are constructed using the best of materials and architectural standards.