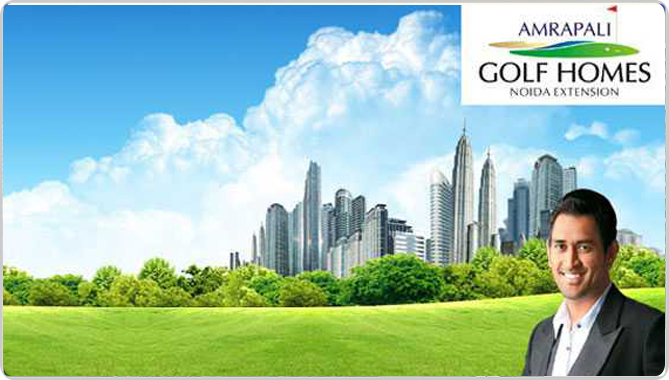 Amrapali Golf Homes
Amarpali groups design well-appointed and stylish home together with implementing all the attractive features. They are on milestone with their different projects similarly to Amarpali Golf homes

Amarpali golf homes are going to launched for the people who really want their living place as fantasy land. It is gated society and you have to select your favorite 2/3 BHK luxury apartment as per your needs.

The amarpali group initiates amarpali kings wood which is one of the upcoming residential projects of golf homes. This community has been designed in such a way where you feel like quality of and actual happiness of living together. The golf homes have been planned according to your comfort as well as qualitatively constructed.

This is located in Noida extension with all the best features of residential project. They offer buyer with superiority that never ends with their probability. It can be reveals as new residence unit that is going to be prove as most compatible and comfortable zone. This has been blessed with ultra modern conveniences. The towers and houses are all earthquake resistant and RCC framed. The floors has been made by vitrifies tiles and anti skid tiles with beautiful colors.

Amarpali groups have a lot of unique facility that is located in a prime location providing you with comfortable lifestyle. It is managed to change the status representation of magnificence that is redefines a feeling of pleasure and luxury.

One of the most stylish as well as smart residential venture is that of the Amrapali Golf Homes in Noida. The township has been built under the aegis of the real estate builders of Amrapali Group.

Here, you will be able to get your dream apartments in the format of 2/3 BHK along with the reasonable price and in sizes ranging from 835 square feet to 1595 square feet respectively. It has been strategically placed at Greater Noida, Noida Extension. It is most valuable & important housing venture in the NCR Real Estate sector. When you stay here, you will be able to lead a novel way of life which will be away from the e crowded free & a pollution free area as this residential venture has been encompassed in lavish green environment. It is an attempt of Amrapali group, to create a cozy zone where human & nature can live together.

Here, you will also be provided with fully furnished with all type of comforts and conveniences. In this way you are able to purchase a dream home with safety and security as the first priorities.

Here, you will also be able to enjoy a huge range of facilities. For example, the lovers of golf will be able to play golf in a high-class domiciling residential apartments and flats along with great giant Golf Land. In the past history, it's the first project of Noida in real estate sector. Due to its ease of location it's becoming a more popular investment for buyers. All of the towers in this residential colony have been constructed with classy designed and they also have all of the modern amenities & luxurious facilities in every home. On staying here, one will be able to experience the modern life without being modish, attractive architecture & interior, a satisfaction abode & a home of peace.