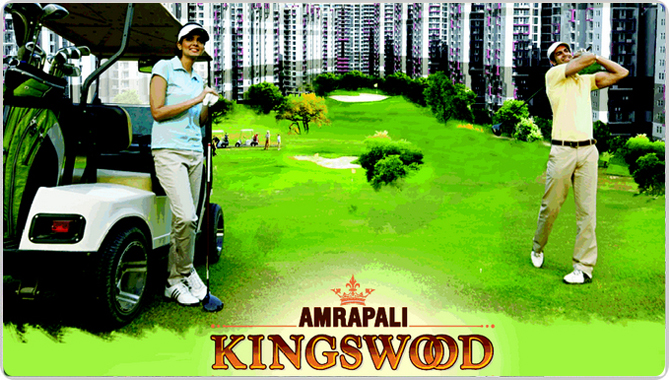 Amrapali Kingswood
One of the latest residential project of Golf Homes to be launched by the Amrapali Group is known as Amrapali Kingswood and is located in Noida Extension. The aim of the Amrapali Group of builders has been to redefine the living space in order to match your lifestyle and standards. Kingswood is an awesome residential project which will provide you with 2BHK of 835-1200 sq ft, and a 3 BHK of 1115 – 1595 sq ft apartments. Kingswood is chock a full of harmonious amenities and lavish luxuries all of which combine together with the present lifestyle tailor made for the innovators of today. The Amrapali Group of builders has kept in mind comfort and convenience because of which the architectural structures have been meticulously executed. Kingswood presents an outstanding amalgamation of modernity and eloquent structural design stand to be admired.

Amrapali Group is a name that needs no introduction because of obvious reasons. Over the past many years they have been instrumental in coming out with some of the most fascinating housing projects that one could think of. In keeping with their rich traditions, today they have come up with the famous Amrapali Kingswood project. It is spread over a total area of 60 acres and the open space is around 75%. So there is greenery all around and there are around 9 towers and the total number of dwelling units are around 3500. It offers some of the best collections of 2 and 3 BHK apartments. The entire project has been well conceived and therefore one can expect the best quality of living at all points of time.

The project is mainly for those who look for luxury but within affordable rates. It is therefore as far as lavish luxury is concerned and each home has been very thoughtfully constructed with the coolest of conveniences to say the least. The rooms are very spacious with quality windows, high ceilings and the best of lighting and ventilation arrangements. The fixtures and fittings are also of the highest standards offering quality at each and every step to say the least. Further the wardrobes, flooring, and other fixtures have been built with some wonderful theme in mind. Therefore there is uniformity all around without being burdened with monotonous looks.

The project also is famous for being well located and is not far away from all civic amenities and facilities. Whether it is parks, hospitals, schools, markets, shopping malls, cinema halls and others there is no doubt that they are available within very short distances. Therefore reaching the most important areas of Delhi will not be a difficult task to say the least form all points of view.