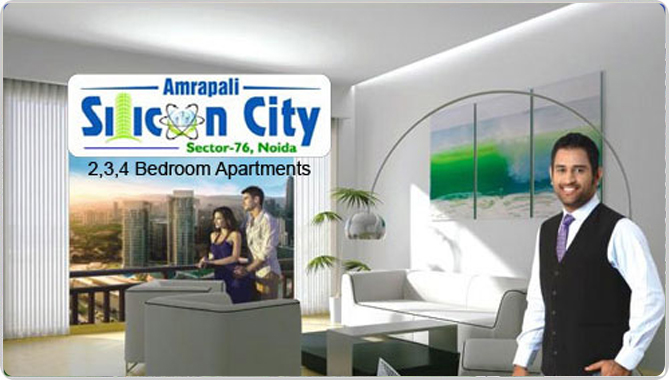 Amrapali Silicon City
The Amrapali Group of builders have come up with their new township at sector 76, Noida by the name of  Amrapali Silicon City, Here, you will be able to purchase 2, 3 bedroom apartments in different sizes ranging from 950 sq. ft. to 1475 sq. ft. This beautiful township offers the buyers with excellent amenities in the form of a Green Club with sports, Swimming Pool, Kid's, Pools with Gymnasium, Open Amphitheatre, Auditorium and also a Multi Cuisine Restaurant. Silicon Valley allows you to move up in life, into the world you dream of. The township is as hi-tech as its inspiration. With the information technology breakthroughs and the way they have managed to redefine our lifestyle is the inherent idea behind silicon city. The dream project by the Amrapali Group of builders is laced with the latest technology gizmos and it has also been constructed with new age materials. This is why the township is able to reflect and aesthetic combination of technology and nature in creating dre am homes.

If you are looking to purchase a dream home of your own then your search ends here as the real estate builders of Amrapali Group has launched one of the best housing projects by the name of Amrapali Silicon City that is located in Noida.

On entering the community, you feel yourself relaxed from the hustle bustle crowd of the city. You will be able to live in the lap of nature as the green areas surrounding all around the apartments secure you to live very close in the cozy arms of the Nature. On staying in these apartments, you will be able to you enjoy fresh air on the roof top, have a dip in the luxurious pool. As a fitness freak, you will be able to chill out at the gym and spa that have been designed to reward not just your body but also your senses. If you wish to enjoy indoor games then the recreation room awaits for you.

Its specifications include apartments that are earthquake resistant and they have also been laced with the properties of eco friendly nature along with cool roof concept, Ecbc compliant building envelope, high performance window glazing, solar water heating system, water cycling plants and many more.

So, what are you waiting for? Get ready to greet your guests in the rich aura of modern design drawing and living room that truly befits your style.