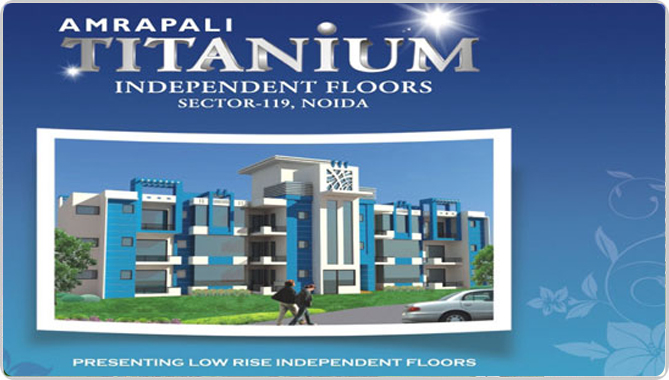 Amrapali Titanium
The Low Rise Independent Floors of Amrapali Titanium form a part of the larger community of Amrapali Platinum. It is situated in Sector 119. Most of the towers have been completed and the possession will be handed over to the buyers in most of the towers. Amrapali Titanium is a township which is surrounded by residential neighborhood with excellent infrastructure. It is easily accessible to the city's commercial sectors The Township is also able to boast of wide open spaces and a fresh, green, natural environment. You can choose from their Luxury 3 a 4 bedroom independent floors. In Amrapali Titanium  you will be able to enjoy the facilities of :Best-in-class amenities, G+2 Tower with lift, Golf putting, Garden facing homes, Efficient layouts, Splash pool on each terrace, Mist pool, Clubhouse with resort style pool, Ample Car Parking. In today's fast changing economic environment real estate development has manage to attain new heights.

Amrapali group is the top level name in real estate builders who promote and develop all types of residential apartments. Now it has launched a new residential project named as Amrapali Titanium. The demand of residential property is increasing rapidly because everyone wants to invest huge amount for securing a good return. As per the comprehensive study, it is proves that no other source available like this group.

The Amrapali group is well established name in the real sector by presenting n numbers of residential projects in real estate sector with affordable options of luxury homes. A house becomes a home when one has requisite features and amenities for the whole family. If you are one of them who want to invest in the luxury Amrapali residential projects, then you need to check out the projects on this group named as Amrapali Titanium. It is offering low rise independent floors with an option of 3 and 4 BHK. Here, you can be able to rediscover whole lifestyle that loved by everyone.

Such project offers a host of luxurious feature and amenities which set the projects apart from its contemporaries. One of the most important things about this project is that it constructed by keeping the needs of the residents in mind so that it will surely meet all your needs extensively. It can offering the tremendous facilities and royal luxurious features, even the project has been developed for future so no matter how much greenery and old pattern is style of the residency it has offered all the advanced and to the lead of time services to ensure the better lifestyle.

It is a place where one can enjoy the nature, they can get wet in the rain and can also sooth his eyes sight by watching sunrises, sunset and other beautiful views which hardly can be found in cities.