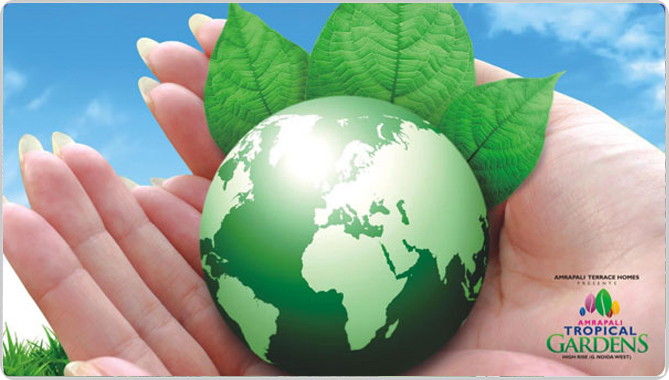 Amrapali Tropical Garden
Amrapali group brings you the all new Centurian park terrace homes. These park terrace homes brings you close to the nature by providing nature at your doorstep along with the luxury space and the comfort you are looking forward to. Amrapali presents you its new towers in terrace home being famous as "Amrapali Tropical Garden" to move you towards perfect harmony and peace, where humans and nature exists together under one roof.
Amrapali brings you the land of peace and harmony to celebrate each moment rejoicing life and sharing happiness, joy, serenity, a zone that serves you with some most demanded qualities like- comfort, style and luxury at one place. An easy to locate with access to all facilities in minutes and serving all the necessities at your doorstep. This is the one of the most awaited projects proposed by the Amrapali Group and the first one with Tropical Gardens.

For those who are looking for quality residential projects there is no doubt Amrapali Tropical Garden is something that holds out lot of promise. It is situated in NOIDA and it has some of the finest collections of 2, 3 and 4BHK apartments. The project is well known for offering the best possible amenities and facilities to its customers. The project is spread over 70 acres and it has 18 big towers with an open area of 75%. All the apartments have been very nicely designed with the best of interiors and fixtures and fittings. The kitchen, bathroom and living rooms have been very intelligently designed offering quality living at all points in time.

Further it would also be pertinent to mention here that the project is well located and there is greenery all around. The project comes with double height terrace, balconies which are very spacious, three side open flats and cross ventilation which goes a long way in offering the best of lighting at all points of time. There are a few more important points that needs to be taken into account.

The project is located 5 KM from Sai Mandir and is also very close to Fortis Hospital and the DND flyaway is just 20 minutes from the project. The famous Sector 18 market is also around 15 minutes drive away from the project. Hence it is very closely located as far as the basic civic amenities and facilities like school, college and medical facilities are concerned. Further the project also promises the best of common amenities like community halls, 24 hour security, 24 hour water supply, round the clock power backup facilities and much more. Hence in fine it certainly is a project that is great in more ways than one. Investing in this project will certainly be a great decision to say the least.