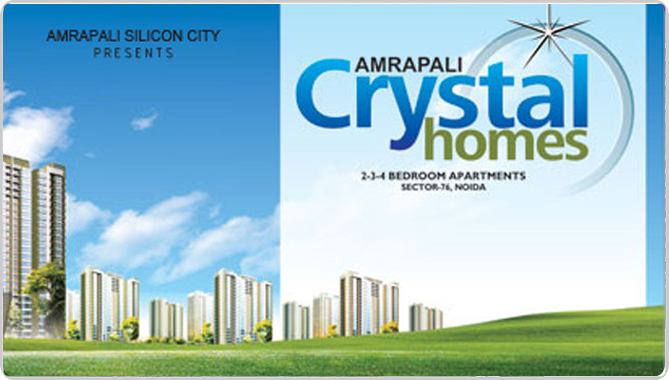 Amrapali Silicon City Presents
Amrapali Crystal Homes
The Amrapali Group has secured its name in the construction industry amongst a long list of builders due to few specific reasons. These reasons mainly include- superior architectural design, engineering efficiency, inclusion of lush greenery in and around the properties, producing extra comfortable and lavish accommodations, and more effectively, all this at a great price. All these have contributed in making each and every property produced by the Amrapali Group a hit with the masses. The Amrapali Crystal Homes is another specimen of beauty, constructed by the Amrapali group, which lives up to all the different factors mentioned above.
The property located in the sector 76 in Noida comes with diversity in the size of accommodations made available. The residential complex holds 2 BHK, 3 BHK and 4 BHK flats for aspirants. The closeness of the property to all the major centres of commute, such as the Indira Gandhi Airport (45 minutes), Metro Station (2 km), etc make it well connected to the other parts of the state and the country. Other nearby landmarks those are sure to make your life at the Amrapali Crystal Homes a lot more convenient are- the Fortis Hospital at 3km distance, Atta Market in Sector 18 at a distance of 10 minutes drive, Sai Mandir at a distance of 1.5 Km, the Golf Course within 5 minutes driving distance, etc. Connectivity to the rest of the NCR through the NH 24 also contributes in making its location great.
Apart from its superior locations, the Amrapali Crystal Homes also delivers the best in class amenities and luxurious living facilities. Not only is it a beautiful specimen of architectural brilliance, but also holds a supremely strong structure that is engineered to resist even the strongest of earth quakes. The Amrapali Group has hence come up with a property that is not only superior looking but is also one of the safest.